If you are interested in a seminar on any subject in Jujitsu or Restoration Therapy with the Professor, please contact us.
Popular subjects are:
Fusegijutsu (self defense)

Kappo/Sappo (to cure or kill)

Seifukujutsu (healing arts)

Keisatsu Gijutsu (police arts)

Kiaijutsu (internal arts)
Email: Professor@Kodenkan.com
Phone: 408-260-0237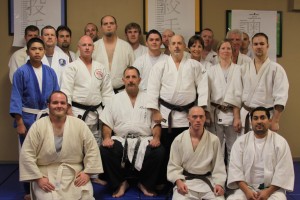 Professor Janovich has taught from the east coast to the west coast and overseas. Learn from one of the best in the world! He has taught Law Enforcement Officers throughout the country including FBI, Secret Service, State and local Police since 1973. Prof. Janovich has also taught at military bases teaching Army Special Forces, Navy Seals, etc since 1975.
Seminar rates can vary, please call or E-mail for more information.