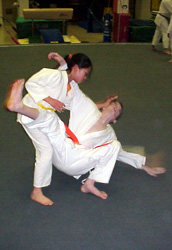 What do kids learn in Jujitsu Class?
Self Defense
Self Confidence
Self Discipline
Character Development
Physical Exercise
Mental Discipline
…and much more!
Kids Jujitsu: What's is all about?
The kids Jujitsu class is for children between the ages of 6-13 years old. Hear what the kids have to say about Jujitsu:
When asked:
"What do you like about Jujitsu?"
Click on a name to hear their answer:     Emily     Nikita     Cyrus     Brandon
Prof. Janovich leading the kids in a run around the mat as part of warm ups.
Sign your kids up now…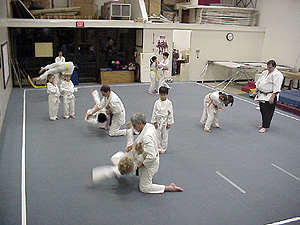 We offer beginning Kid's Jujitsu on Wednesdays from 6:30 PM to 7:30 Pm at the Santa Clara Community Recreation Center at 969 Kiely Blvd. in Santa Clara. Each beginning session runs 8 weeks.
Once a student has finished the 8 weeks they will be evaluated as to whether they can go into the intermediate class or continue again in the beginning course. Most kids are ready for intermediate Jujitsu after one or two 8 week sessions.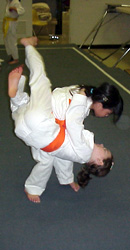 The intermediate/advanced Jujitsu for kid's meets twice a week, Tuesday & Thursday 7:00 PM to 8:00PM at the Gymnastics Center at 3445 Benton Street in Santa Clara.
Below are some pictures from the kid's classes, both beginning and intermediate/advanced classes. The kids practice many different techniques in Jujitsu. These include rolls, falls, hand arts, kicking, striking, throwing, movement, and more…
More than exercise… More than just self defense…
Our kids develop better:  Self Discipline, Self Confidence,  Grades in School and Attitudes…

Prof. Janovich has been teaching Jujitsu to kids for 50 years. He has used his extensive experience to refine the kid's classes into something the kids not only enjoy… but get the finest techniques of self – defense anywhere!
---
The History of our Kid's Jujitsu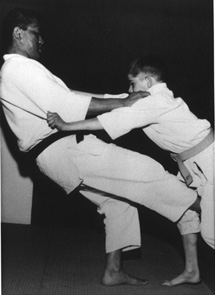 For 34 years Prof. Janovich's teacher Prof. Kufferath taught kid's classes, from 1960 he taught at his Los Altos AkiJitsu Dojo and also from 1964 his Nikko Jujitsu School had a kids program taught by Sensei Fermin Urmeneta.  In 1976 Prof. Kufferath turned over the Los Altos kid's program to Prof. Janovich, who had been assisting him with the kids since 1970.
Also in 1970 Prof. Kufferath began teaching for the Santa Clara Parks and Recreation department assisted by Prof. Janovich.  Today these classes continue in an expanded format including beginning, intermediate and advanced.  The kids can take tests and earn colored belts as they progress through Jujitsu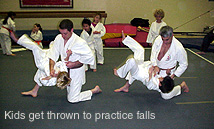 The tradition of experience, success and learning was passed down from Kufferath to Tony Janovich, the professor's number one student. The classes are run according to criteria given to Prof. Janovich many years ago.
Put this tradition of experience success and learning  to work for you!
Program Name
Location
Kodenkan Kids' Jujitsu
969 Kiely Blvd.
Santa Clara, CA 95051
408-260-0237
---
Kids classes of the past

This is a picture of one of Prof. Kufferaths students from his kids class at the Kodenkan Dojo on S. Hotel St. in Honolulu in 1943.  He has just thrown Prof. Kufferath Seoi Nage (Shoulder Throw) and then an arm bar would be applied.
Prof. Kufferath's kid's class at the Kodenkan had anywhere from 40 to 50 students in it. He was assisted by Sensei Bing Fai Lau and Esther Azumi.

This is a picture of the kid's class run by Sensei Fermin Urmeneta in 1966 at Nikko Jujitsu, Kufferath's school in Mtn. View, Calif.  Fermin was assisted by his brother Harry Urmeneta from about 1969. These classes were held twice a week for general class. On Saturday mornings there was an advanced class too for colored belts only.
The Kodenkan Kid's class Instructors and Assistants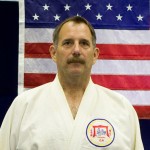 Prof. Janovich is the lead teacher for all of the Kid's Jujitsu classes. He keeps the kids enthusiastic about class and is very strict about discipline and teaching practical self defense.  His style of teaching is very traditional and he is able to bring the best out in the kids he teaches.

Prof. Clive Guth is the chief instructor of the Kodenkan and helps with the kids classes, both beginning,  intermediate and advanced.  He has been instructing the kid's classes since 1986.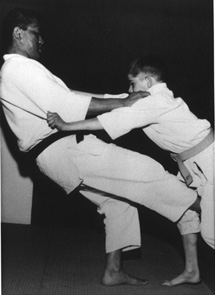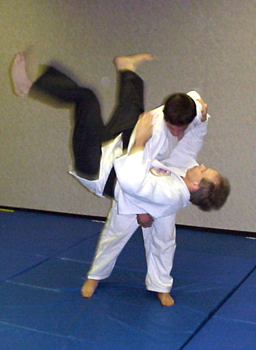 For more information or to sign your child up
Call us: (408) 260-0237

Or…