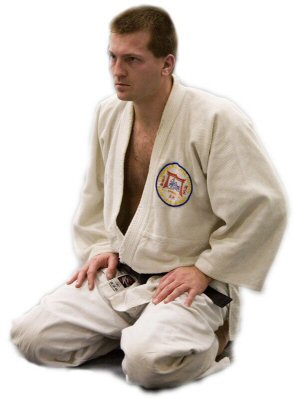 The chief instructor at Colorado Kodenkan is Sensei Chris Love. Chris started his martial arts training in a mixed style, near the end of 1993 while living in Arizona. After moving back home to the Chicago area he briefly studied a Tae Kwon Do / mixed style and Aikido before becoming introduced to Miyama Ryu JuJutsu. He started studying this style at the College of DuPage program run by Combat Arts Institute, under Sensei John Martin and Sensei Don Koz in March, 1994. He spent the next 5 1/2 years rising through the ranks, preparing for sankyu before relocating to the San Jose, CA. Chris began training with Professor Tony Janovich in July of 2000. Chris has completed training in Professor Okazaki's Restoration Therapy, taking both the Basic and Advanced courses from Professor Janovich, completing them in April, 2004.
After attending class 3 nights a week for several years and assisting with kids and adult classes, Chris tested for his Shodan in December, 2003. Just over two years later, in January 2006, Chris received his Nidan. In July, 2009, during a visit from Professor Clive Guth, Sensei Chris was promoted to Sandan. This is an unprecedented event as promotions are done only at the Kodenkan in Santa Clara, CA. In February and March of 2013, Chris attended Professor Janovich's Kodenkan JuJitsu Okugi class. This class is held once every 10 years for instructors from around the world. At graduation, Chris was awarded the title of Kyoshi. He was also promoted to 4th Dan (Yodan). Chris was one of Professor Janovich's ukes as well as had the distinct honor of demonstrating techniques from Yawara up through Shinnin as well as being uke for Shinyo and Shingen arts.
Chris currently serves as the Southwest Regional Director for the KDRJA – Kodenkan Danzan Ryu JuJitsu Association.
There is a direct lineage to Professor Okazaki in Chris' training (Okazaki – Kufferath – Janovich – Love). This is important in transmission of the art and preserving its heritage. Chris is the highest ranked instructor in Colorado of this direct lineage.
In addition to Danzan Ryu, Chris is also an instructor in Ju-Jo an invention of Dr. John J. Lewis (who was the instructor of Sensei Martin and Sensei Koz of Combat Arts Institute). As far as it is known, at the time of this writing, Chris is one of a few, if not the only, Ju-jo instructor west of the Mississippi. Chris has also studied modern combatives with Lee Morrison and has appeared in one of Lee's instructional videos from Paladin Press. Chris has also studied Filipino Kali under Guro Mike Jennings.
Outside of the dojo, Chris has created and teaches a class for pilots and flight crew. This class deals with varying scenarios on board a commercial aircraft from intoxicated or belligerent passengers, those trying to exit the plane while at altitude up through counter-terrorism. This class is currently taught to a major U.S. air carrier.
Chris is also an NRA Certified Firearms Instructor, Refuse To Be A Victim Instructor, Range Safety Officer (RSO) and USCCA Instructor and Training Counselor and can provide training to certify you for the Colorado or Arizona concealed carry permit issued by your county or state.
More information about Level 5 Combat Systems